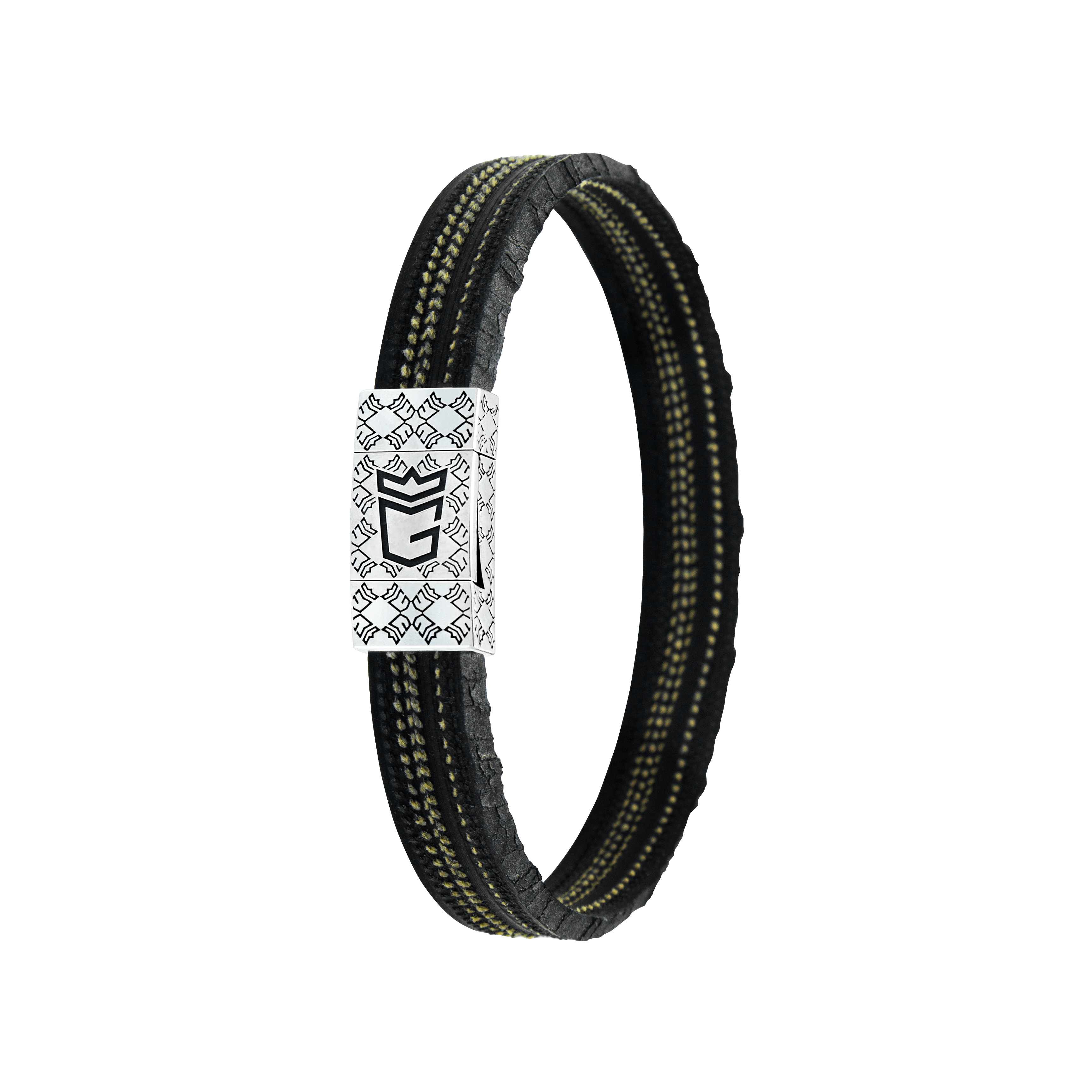 TECHNICAL CLASP
Produced in SIlver 925, Steel & Gold 18K or Gold 18K, it represent the distinguishing features of quality, style, attention to details and design.
GENUINE DETAILS
The Kevlar of the tyre, can be more or minus present in the jewel, without some least alteration of it native position inside the portion of tyre, left at its natural and splendid decorative mission.
RACING TYRE
Portion of the tyre used in a Formula 1™ (or GT), the perfume of the competition maintained by our workmanships unchanged in its imperfections and exclusive beauty.
Products made with a portion of the tyre used in the Formula 1™ (or GT) race , the perfume of the competition managed by our processes unchanged in its imperfections and exclusive beauty.
SHOP NOW
Produced with authentic pieces of tyres used in the Formula 1 and Motorsport Championship races, the MONGRIP bracelets are exclusively MADE IN ITALY.
LEGEND is the "Limited Edition" collection in which the tyre is nothing short of legendary: in addition to all the RACE qualities, these collections are made from tyres used by the best drivers, in history-making race cars and teams and in the most memorable championships.
LEGEND COLLECTION
MONGRIP™ is a Monegasque company created in 2016, which unites Brazilian racing driver Augusto Farfus and Italian businessman Giancarlo Medici as partners. MONGRIP™ is the only lifestyle brand that turns authentic racing relics into emotional fashion accessories.
Giancarlo Medici, an Italian entrepreneur and collector of memorabilia items, has always had a passion for motorsports with Formula 1™ racing in particular. Parallel to his professional career, at the end of the nineties, Giancarlo began to think, about how racing memorabilia & relics could become unique creations and jewelry available to the many enthusiasts like him. The idea began to take shape in 2008 when, at the end of one Formula 1™ Grand Prix, Giancarlo noted the incredible number of fans invading the track to collect pieces of rubber from the tyres left on the asphalt to take home as a souvenir. Years of research and testing followed, and the selection of qualified suppliers would follow until November 2015, when the project became a reality:
MONGRIP™ was born.
The production process results from an exclusive international patent. Respecting the conservative, physical and constructive characteristics of the tyre, we then use the material for a limited and variable production of no more than 500 bracelets: all MONGRIP™ bracelets have a unique number to identify the tyre from which they were made. The design is the result of the perfect mix between the quantity of raw material used, the creativity of our team of artists, the intricate workmanship of our craftsmen on every piece of tyre and the expert goldsmiths that complete each piece, embellishing them with precious metals. Each MONGRIP™ bracelet is therefore different from one another, making them an unrepeatable, exclusive, original collector's item. That's why MONGRIP™ is unique by definition. A true intimate experience for enthusiasts.
(+377) 99.90.29.32
hello@mongrip.com
(+377) 99.90.29.32
sales@mongrip.com
(+377) 99.90.29.32
customercare@mongrip.com